What's new in Xpand Portal 3.4.2.0
Version 3.4.2.0 of Xpand Portal introduces the following features and improvements.
Custom quick search (US 5006)
Custom quick search is a new independent page block. The user can create it in a layout block of a dashboard, grid or detail page. Using the custom quick search, it is possible to detach the quick search from a grid and locate it in any place of the page. The custom quick search can search data in multiple related grids.
For example, you can have 5 grids, each on its own tab, and configure a single custom quick search that will search all these 5 grids as on the screenshot below.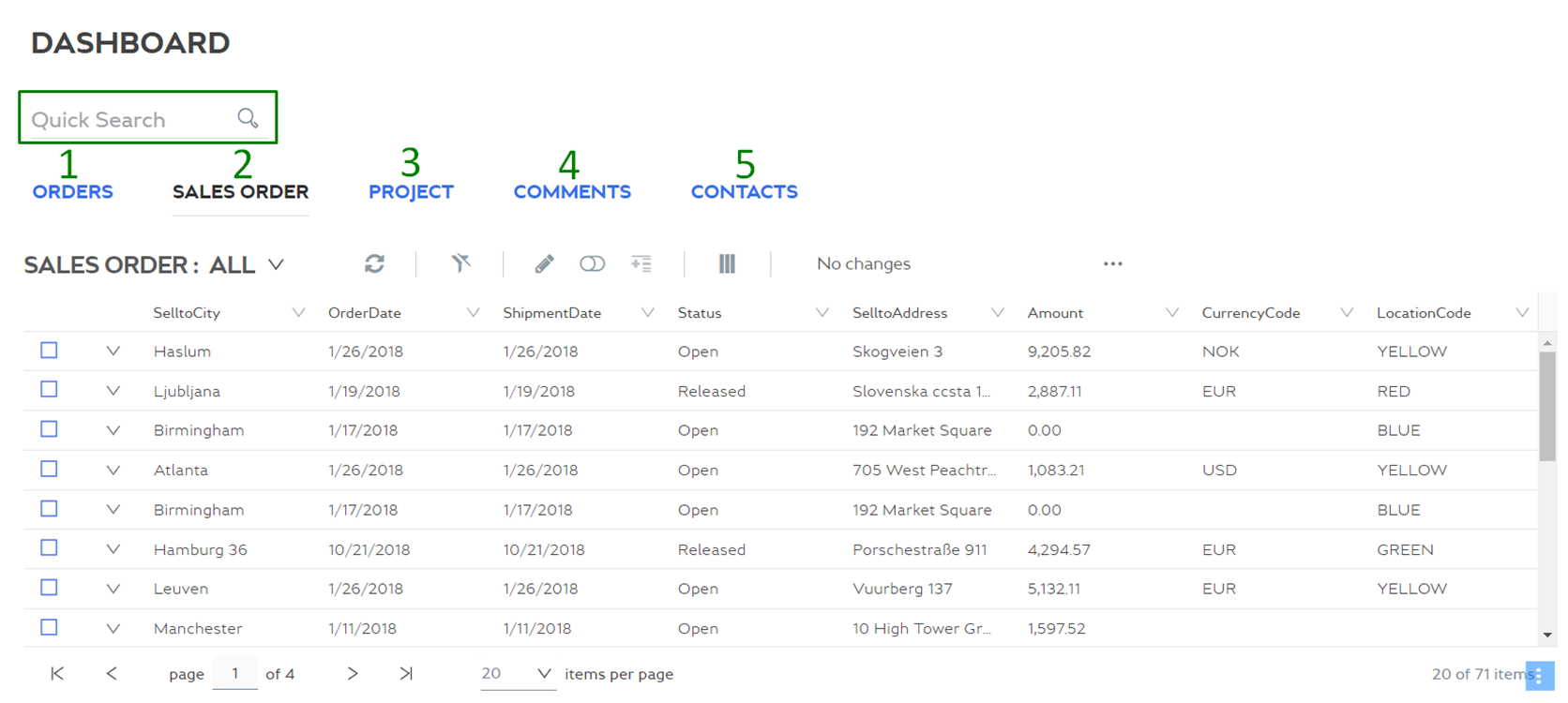 When you are configuring the custom quick search, you can choose one or multiple grids that will be searchable using the custom quick search. If there are no related grids selected, the custom quick search will work for all grids in the layout.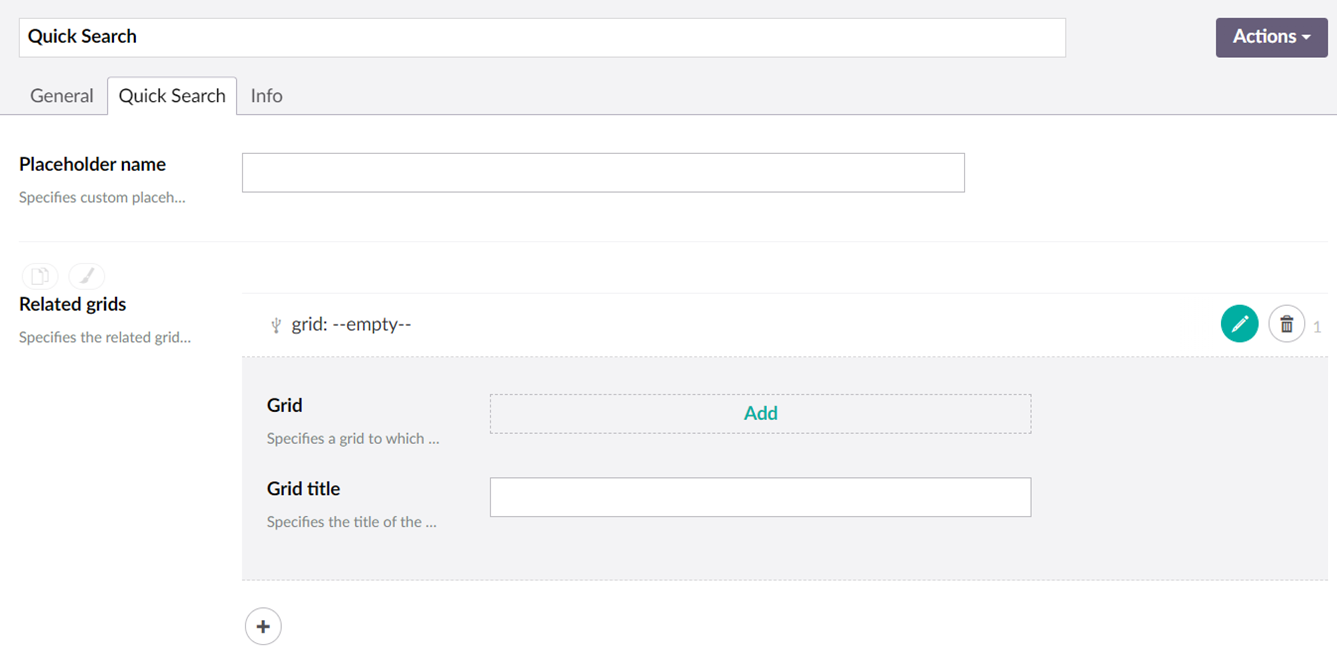 Note: When a custom quick search is added to a grid page, the standard quick search is not shown.
Xpand Portal validation improvement (US 4403)
Several new validations were added to the portal in the field setup.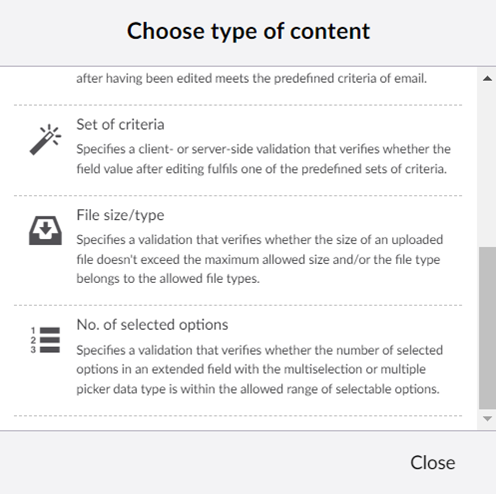 Custom – The user can select any custom validation from the dialogue window that is opened on the right.
File size – The user can specify allowed file types and their maximum allowed size.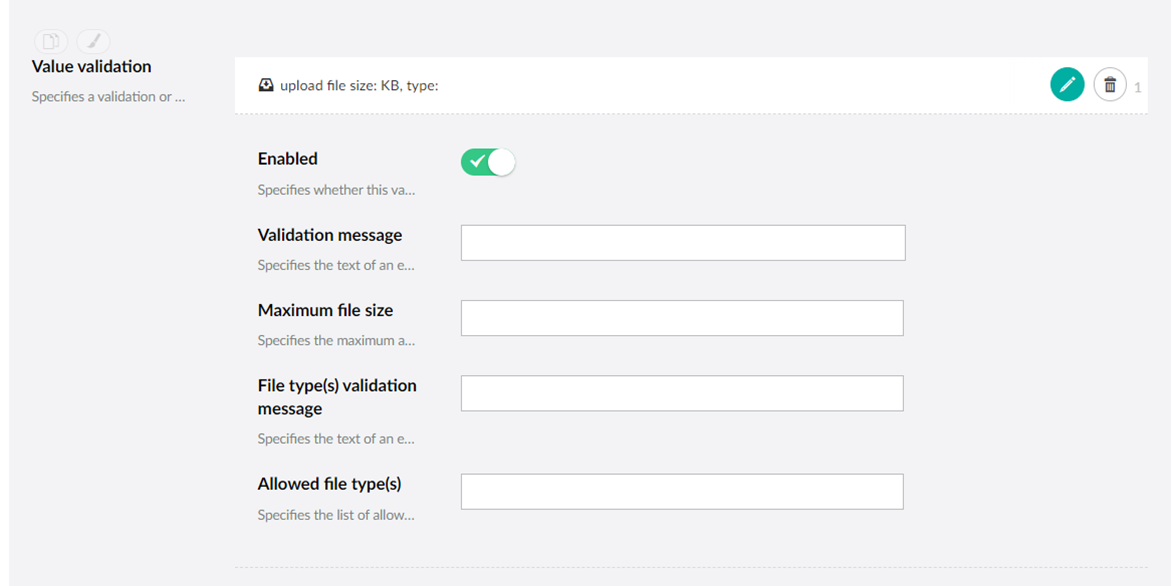 Min-max values – The user can specify the minimum and maximum allowed values of a field.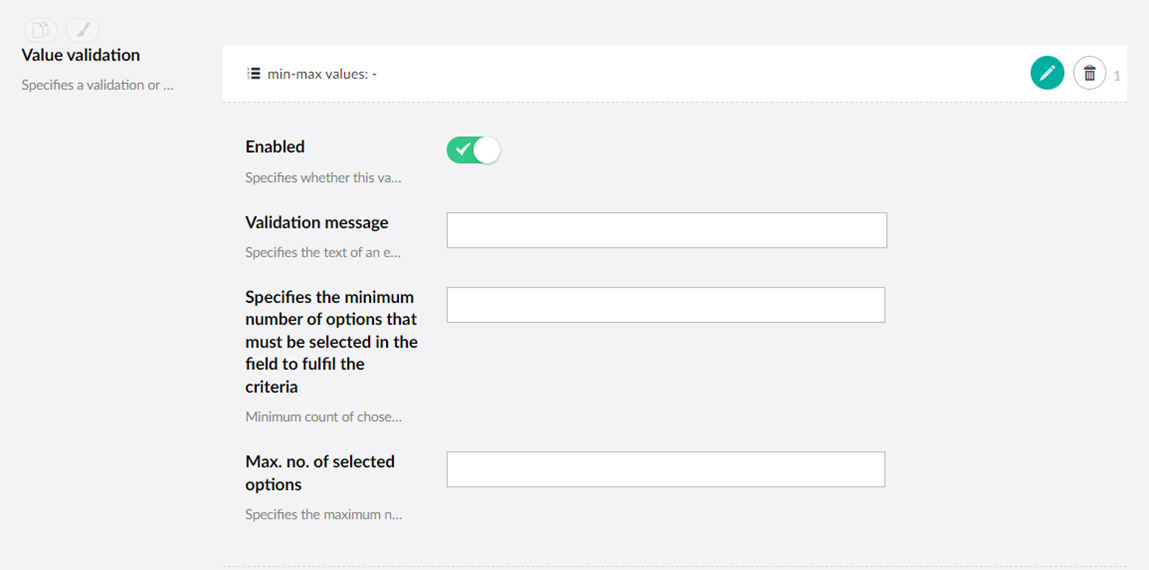 Drop down list paging (US 5002)
We changed the approach of how dropdown works. Instead of loading all dropdown items at ones, we created paging and now, if there are many dropdown list items, they can be shown on drop-down pages that you can navigate through. In this case, only a certain number of items is loaded; the rest of items are loaded on request when the member selects another page in the dropdown.
Dropdown paging is set up in Media, in the lookup settings of an entity field, where the Max no. of dropdown items setting can be filled in. If there are more items in the dropdown than it was set up in this setting, dropdown paging will appear.
Field display mask application improvement (US 5206)
Now if a field has a display mask configured, it is applied instantly on value change without the need to refresh the whole page.
For example: Here we see customer's number and name in a dropdown.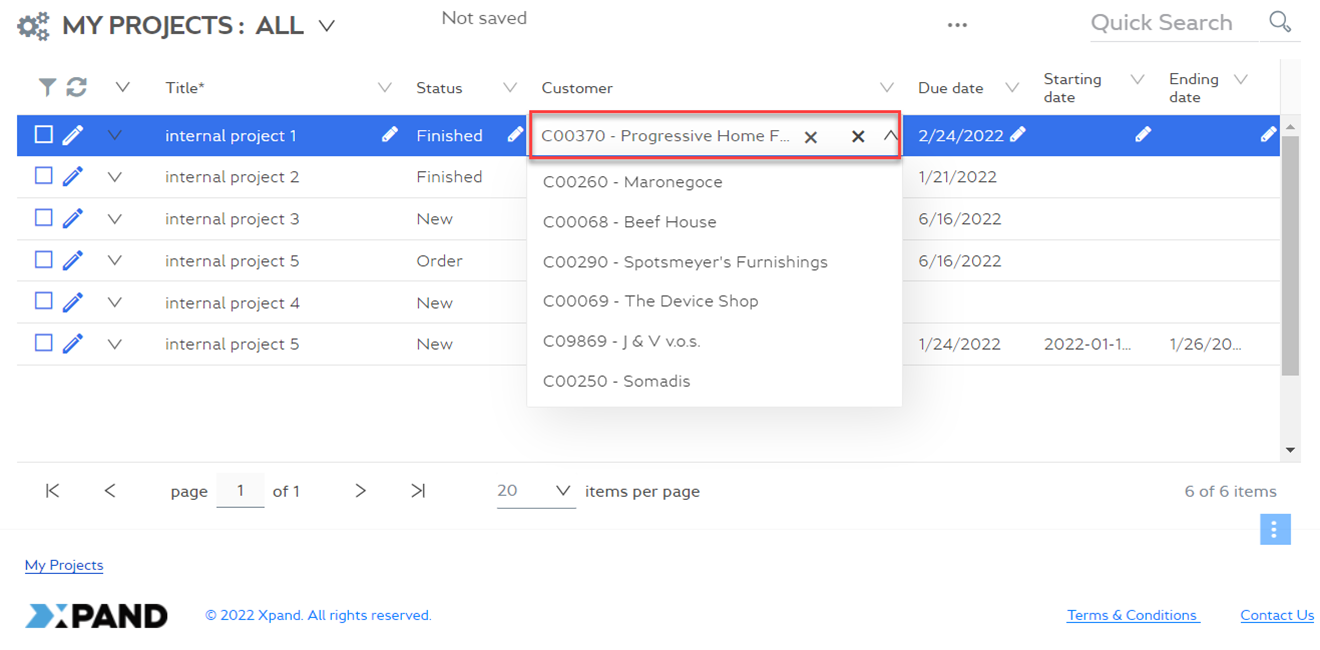 After selecting a value, we can see only customer's name, which means that the mask was applied instantly.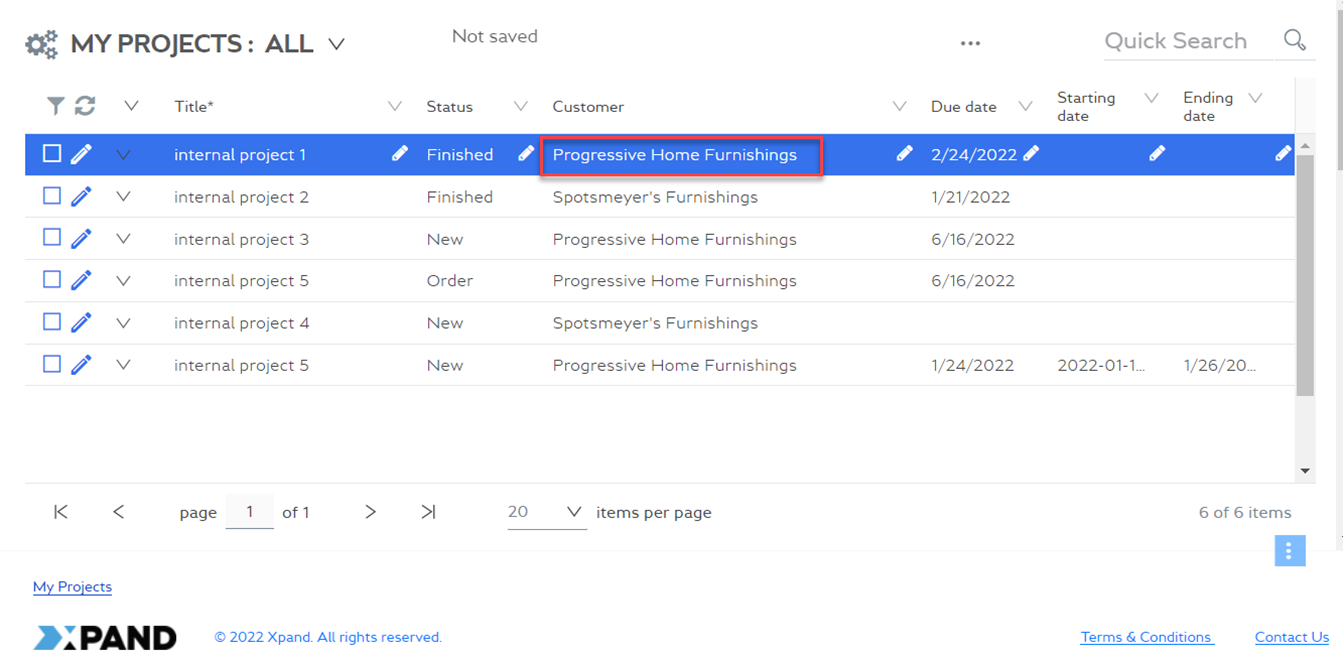 No. series improvement (US 4421)
The number series functionality, which allows you to configure automatic increase of a numeric field value upon record creation, was expanded. Now this setup allows you to configure multiple sets of number series settings for a field (in the entity field settings). You can choose which of them will be enabled and available for selection in the field settings.
Then, in the field settings on a page, you can select the code of a number series setting set (among sets that are enabled and configured for the field) that will be used for autoincrement with this field.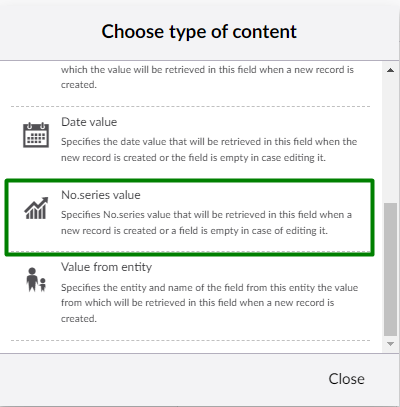 Navigation pane (menu): 2nd level redesign (US 4176)
From now on items in the second level of the navigation pane (menu) are located opposite the selected item in the first level, and not at the top as it was before. The second level menu is limited vertically by the size of its content.
Bug Fixes
Various issues have been fixed throughout Xpand Portal.
A detailed description of these features is available or will be added soon to our help center.
Contact us to request a demo:
Phone: +380 44 251 36 36
Email: info@xpandsoftware.com