Xpand Portal 2019 Summary Report
So, 2019 is behind, we've just published our last release 3.2.4 for 2019 and it is time to tally up our accomplishments for this year.
It has been quite rich in new features, as our team couldn't help but keep delivering far beyond the initial roadmap. Not only were we concentrating on all new and shiny, but also devoting a lot of our attention on improving and enhancing existing features.
Let's get to the facts!
In 2019 we have delivered 75 user stories, 117 bug fixes, and closed 195 tasks.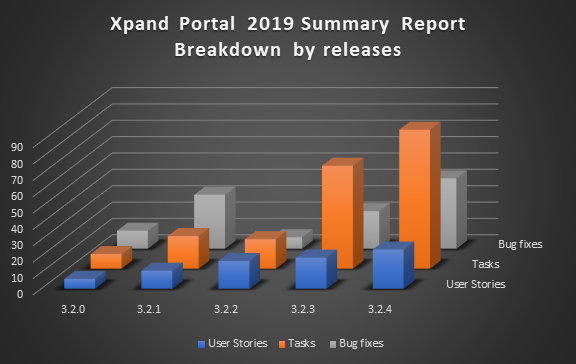 Even while delivering beyond the plan, we always try to stick to the promised roadmap, as some of the features are very much anticipated by our customers.
Let's look at the 2019 roadmap features status:
WYSIWYG (pages configuration) -

DONE!

Advanced Control (My account) -

DONE!

Activity Audit -

POSTPONED!

Configuration Backup/Restore (backend) –

DONE!

Member Privacy Blocking -

DONE!

Portal Backend Setup Automation –

DONE!

Advanced Document Management Functionality -

POSTPONED!

Tags –

POSTPONED!

Extended Data View (Tiles, Calendar) -

DONE CALENDAR.

TILES POSTPONED!
Members Import - DONE!
Lookup Fields, Filtering, HTML Editor - DONE!
Automatic Update Installations - POSTPONED!
UI Themes – DONE!
Rest API (Basic) – DONE!
Rest API (Advanced) – DONE!
Chat – POSTPONED!
So, what is that "beyond the plan" we were referring to? There is so much, but here is the list of the most interesting features:
Client-side events using JavaScript to enable for automatic fields population and calculation
Record autosaving
SSO login
Google map integration
Snippets functionality
"Compare records" functionality
Picture control on the detail pages
QR codes with a link to the current page
Enhanced date filters (using Today, Current Week, Current Month)
Member logons dashboard – showing member visits of the pages on your portal
Automatic invitation letter sending to the new members
Improvement of how the attachments are shown
Enhanced editable mode for the grids
Text alignment control for fields
Extended control over how lookup values are displayed in the view mode. Why not show pictograms instead of boring values?
Enhanced lookup filters
Enhanced calendar - Month view, linking with other grids
Sending emails directly from detail pages using predefined templates with dynamic field value settings
Aggregation possibilities on the tiles
Quick preview page on the grids
and so much more…
For more information about released features, please visit our What's New series on our blog https://www.xpandsoftware.com/blogs.
Contact us to request a demo:
Phone: +380 44 251 36 36
Email: info@xpandsoftware.com