Traditionally, NAV Tech Days became one of the greatest technical conferences in the NAV/BC world this year. As usual, this conference was a great opportunity to see where the product is heading, and how Business Central (BC) is becoming an integrated part of the Microsoft ecosystem. Some of the new changes that were released with Microsoft Dynamics Business Central wave 2 were already described in one of our previous blogs. Nevertheless, in this article, we would like to share with you the most valuable features that were announced by the Microsoft team during the NAV Tech Days 2019.

Modern Client

Modern Application Platform
Current Status:
Future Planes:

Continue to componentize Base Application
Move local functionalities to separate extensions
Consolidate common functionality into W1 extensions
Add new modules to system applications
Modern Development

Modern Platform

From the Lab
This section includes features which are currently under development by the Microsoft team and, hopefully, will be released in the near future.
Read Only Replicas

Automatic creation of 2 databases (in the background) during the creation of SQL Azure Instance in the cloud:

Primary Replica (Read\Write)
Secondary Replica (Read-Only)

Add a new ReadOnly property (on page, query, etc.) to provide a possibility to read data from the read-only replica on the SQL Azure instance

Interfaces

New object Type in AL: Interface
Allows creating code that specifies which functions a codeunit must implement, without having to define how these functions are implemented
Example of Implementation:
Also, a new road map for Dynamics 365 Business Central was announced by Microsoft. As usual, this road map includes key investment areas for the nearest future: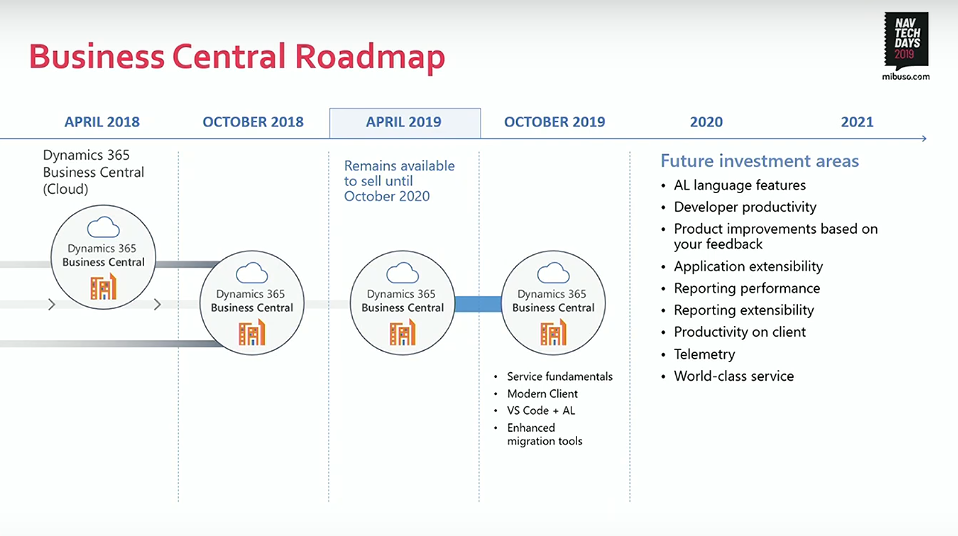 Additionally, great news for those who unfortunately were not able to visit the NavTechDays conference this year: