Cookies overview
Cookies are small text files that are stored on your browser or device by websites, apps, online media, and advertisements that are used to remember your preferences, browser, or device during and across website visits. The information does not always may identify you, but it can give you a more personalized web experience.
Cookies by provider
There are two types of cookies divided in accordance with the category of provide, namely:
● First-party cookies: those cookies that are placed on the website by the host of the domain the user is visiting that is the one we put in.
● Third-party cookies: those that are placed on the website by domains other than the one the user is visiting. As a variety of features that are necessary to ensure the personalized and convenient experience of the user may not be delivered by the website itself, third-party cookies are used.
We use first-party cookies as well as third-party cookies.
The list of the third party's cookie providers is not exclusive and it might change from time to time in the course with our activity.
Please, bear in mind that this policy DOES NOT cover the cookies provided by third parties when you follow the links to the other websites presented at our website.
Cookies by period of expiry
The cookies also vary in the period of retention, namely:
● Session cookies: these are temporary cookies, which are deleted when you leave the website.
● Persistent cookies: these cookies stay in one of your browser's subfolders until you delete them manually or your browser deletes them based on the duration period contained within the persistent cookie's file.
We use session cookies as well as persistent cookies.
Types of cookies, purposes and retention
● Preferential: enable our website to remember choices that the user makes, leave comments.
● Statistical: help us understand how users interact with our website (e.g., page visits and page load speed) by collecting information anonymously, so that you may not be identified.
● Marketing: these cookies are set to deliver adverts that are more relevant to the user as they are based on their interests.
We do NOT set any advertisements. However, we provide such cookies to allow you to share our news on your social media.
Necessary Cookies enable users to use the website by providing basic functions like page navigation and access to secure areas of the website. The website cannot function properly without these cookies.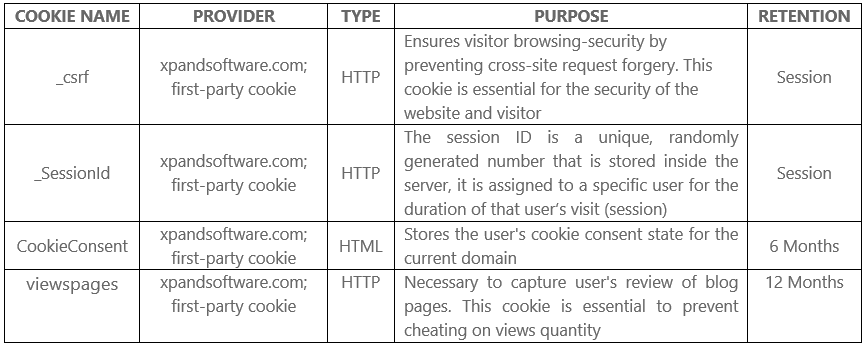 Category: Preferential (17)
Preferential Cookies enable our website to remember choices that the user makes and leave comments.
Category: Statistical (3)
Statistical Cookies help us understand how users interact with our website (e.g., page visits and page load speed) by collecting information anonymously.

Category: Marketing (7)
Marketing Cookies are used to track visitors across websites. The intention is to display ads that are relevant and engaging for the individual user and thereby more valuable for publishers and third-party advertisers.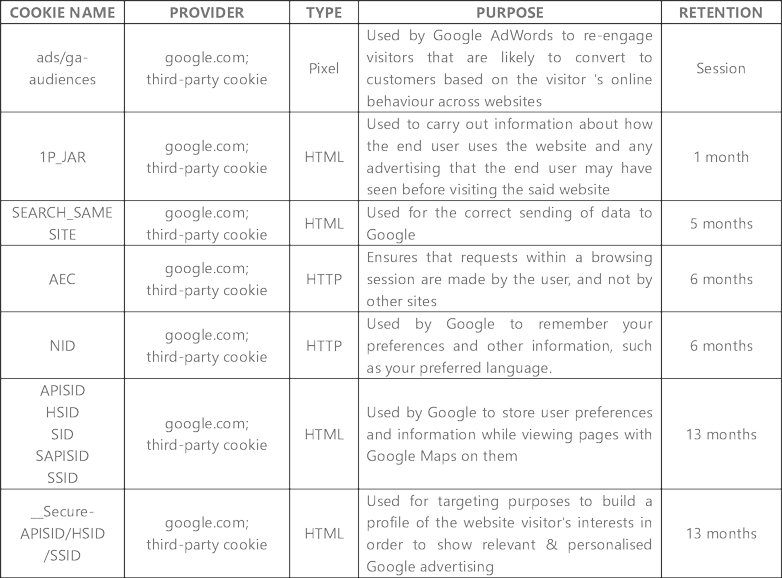 How to manage cookies using your browser
All recent versions of popular browsers give you a level of control over cookies. You can set your browser to accept or reject all, or certain, cookies.  For instructions on how to manage cookies, please read the 'Help' section of your browser or visit a guide https://www.aboutcookies.org/.
If you use your browser settings to block all cookies, which would include blocking our 'Necessary' cookies, you may not be able to access all or parts of our site.
We respect your right to privacy. Therefore, we need your consent for use of cookies before you can continue to visit our website for the first time. You can choose not to allow some types of cookies, defined herein, or cancel/adjust your cookies selection at any time under the settings of our .
However, please mind that if you choose to 'Deny' cookies through our Cookies Consent Form, only cookies strictly necessary for the operation of this website will be enabled.
Contact us
If you have any specific data protection concerns, please read Xpand Privacy Statement .
If you have any additional questions regarding the usage of the cookies as set in this policy, do not hesitate to contact us directly at e-mail address: compliance@xpandsoftware.com
An information in answer to such requests must be provided by the company without undue delay within at most 30 days from the date the appropriate request is received.
Xpand is devoted to resolve all the issues and answer all the questions you may have.
Last update: February 28, 2023